IMAM JAFFER-E-SADIQ ELAHIS SALAM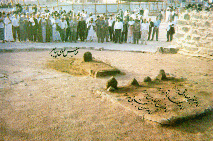 NAME:- JAFFER
TITLE :- AL SADIQ
FATHER'S NAME :- MUHAMMED - BAQIR ELAHIS SALAM
MOTHER'S NAME :- UMM FARWAH
BIRTH:- MEDINA , 17TH RABI-UL-AWAL 83 AH IN MEDINA
DEATH:- 25TH SHAWWAL 148 AH IN MEDINA KILLED BY POISON BY AL-MANSOOR
ABBASIT CALIPH.
BURIED:- JANNAT-UL BAQI MEDINA



_________________________________________________________________________________ The Holy Imam Jaffer Sadiq was the sixth imam and he was bought up by his grand father imam Zaynul abidin in Medina for twelve years and then remained under the scared patronage of his father Imam Muhammed Baqir for ninteen years.
After the death of his father he succeeded him as sixth imam and thus the scared trust of islamic mission and spirtual guidence was relayed down to his custody right from Holy Prophet throught the succession of the preceding Imams.
Imam Jaffer e Sadiq propogate the religious sciences untill the very end of his Imamate, He instructed many scholars in different fields such as Jabir bib Hayan , Abu Hanifa Hurayz , Muhammed -ibn- muslim and many many other had honour of being his student .
During his imamate due to upriseing in the islamic state and due to fall of Ummayad empire Imam Jaffer -e- Sadiq got some time in peace and propogate the true islam .
Imam was arrested several time by Umayyad's caliph and and by Abbasi's too only anf finally al-mansur arested him and bought to Samara (city of Iraq ) Imam was kept their for some time their and then allowed to go back to Medina .
On 25th of shawaal by the order of Al-Mansur the Governer of Medina poisoned Imam . The Funneral prayer was conducted by his son the seventh Imam and his body was laid to rest in the cemetery of jannat-ul-baqi . beside the grave of Imam Zaynul Abidin.