IMAM HASSAN ELAHIS SALAM


NAME:­ HASSAN
TITLE:­ MUJTABA
AGNOMEN:­ ABu MUHAMMED
FATHER's NAME:­ ALI-IBN-ABi TALIb (AMIR-UL-MOMINEEN)
MOTHER's NAME:­ FATIMAh (DAUGHTER OF HOlY PROPHET)
BIRTH:­ 15Th RAMMZAN TUESDAY IN MEDINA
DEATH:­ 2¸ SAFAR 50 A.H AT THE AGE OF 40 YEAR
BURIED:-JANNAT-UL-BAQI IN MEDINA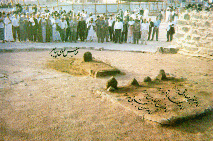 Imam HASSAN was the eldest son of Imam Ali and hazrat Fatima. When this happy news reached the Prophet ,he came to the house of his beloved daughter took the newly born child in his arm recite azan and aqamat in his right and left ear respectively and by the divine command name him al-Hassan. The first seven years of his childhood was blessed with gracious patronage of the holy prophet who gifted him his great qualities and adore him with divine knowledge.
The Holy Imam immediately became conversant with all the content of any wahay revealed,wahay the Holy Prophet would disclose it to his associates, to his great surprise of the Holy Prophet Hazrat Fatima would often recite the exact text of á newly revealed wahay before he disclosed it personally to her.Wahay he inquired she would inform him that it was Hassan through whom she has learned the revelation.
After the martyrdom of imam Ali on 21st of ramzan marked the inception of imam hassan's imamate.The majority of Muslims pledged their allegiance to him and finalizes the formality of bayat No sooner has he taken the rein of leadership into his hand that he has to meet the challenge of Muawiyah,Governer of Syria who have declared the war againist him. In compliance with the will of Allah and with á view to refrain from causing the massacre of Muslims however,he enter into á peace treaty with Muawiyah on the term yet saved Islam and stopped á civil war but this peace treaty was never meant as á surrender by him of the permanent leadership Muawiyah . It is only as an interim transfer of administration of the Islamic kingdom and this administration would be surrendered back to imam Hassan after Muawiyah's death and the it would in turn be inherited by Imam Hussein . Having relieved himself of the administration responsibilities Imam Hassan Kept the religious Leadership with himself and devoted his life to the propagation of Islam and the teaching of the Holy Prophet in Medina. Muawiyah's malice against Imam Hassan led him to conspire with his wife Jade the daughter of Ashatè She was made to give the Imam Some posion which affected his liver,Imam Hassan attained his martyrdom on 28th safer 50 A.H . And he was buried near his mother's grave in Jannat-uì Baqé in Medina.