IMAM MUHAMMAD -E- BAQIR (E.S)


NAME:- MUHAMMAD
TITLE:- AL-BAQIR
AGNOMEN:- ABU JAFFAR
FATHERíS NAME:- ALI ZYINUL ABIDDIN.
MOTHERíS NAME:- FATIMAH BINTE IMAM HASSAN.
BIRTH :- 1st RAJAB 57 HAJREE
DEATH:- 7th ZIL HAJJ 114 HAJREE,AT THE AGE OF 57.
BURIED :- JANNAT-UL-BAQI GRAVEYARD IN MEDINA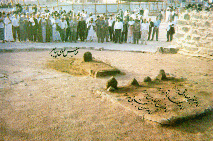 The Holy Imam is the fifth apostle Imam , And he is only imam who was connected from both sides to Hazrat Fatimah i.e. maternal and paternal sides. Imam Muhammad Baqir was bought up in the Holy lap of his grandfather Imam hussain for three years and then for thirty four years he was under the gracious patronage of his father Imam Zyinul abiddin.
The Holy Imam was three year old at the time of Karbala Event and he also witness and and face the brutal massacre of his family and the heartless captivity and imprisonment ft the hand of Yazid.
Ibn Hajat al-Haytami , the famous scholar says " Imam Muhammad Baqir has disclosed the secrets of knowledge and wisdom and unfold the principle of spiritual and religious guidance . Nobody can deny his exalted character , his God given Knowledge , his divinely-gifted wisdom and his obligation and gratitude towards spreading of knowledge. He was sacred and highly talented spiritual leader and for this reason he was popularly known as AL-BAQIR which mean "the expander of knowledge".
In the excellence of his personal purity and godly traits, the Holy Imam Muhammad Baqir was a model of Holy Prophet and his great grandfather Imam ALI IBN ABI TALIB. The Holy Imam gave much importance to convening majalis(meeting) in commemoration of the martyrdom of Imam Hussain .
Imam Muhammad Baqir continued his preaching peacefully till 114 hajree. On the 7th of zuli hajj when he was 57 years old Hisham ibn abdul malik ibn Marwan the then ruler , got him martyred through poison. The funeral prayers for this Imam were conducted by his son Imam Jaífar-e-Sadiq , the sixth imam and his Body was laid to rest in jannat-ul-baqi in Medina.